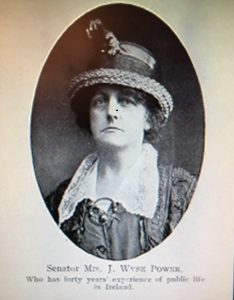 WWHS member Cora Crampton is one of the contributors on SUNDAY MISCELLANY on RTE Radio 1 at 9.10am tomorrow (Sunday 6 Feb.). It's a James Joyce special to mark the centenary of the publication of 'Ulysses'.
Cora's contribution is 'The Wyse Powers and Ulysses'. Jennie O'Toole was born in Main Street, Baltinglass, in 1858. She and her husband, John Wyse Power, were involved in the social, cultural and political life of Dublin to such an extent that Joyce referenced them (surname slightly altered) in Leopold Bloom's wanderings through the city on one day in 1904.
The Sunday Miscellany broadcast is a good introduction to Cora's more detailed article in the 11th Journal of the West Wicklow Historical Society (2021-2022), still widely available. Jennie Wyse Power was an important figure in Irish politics from the Land League to the 1930s and she is getting more attention now as people reassess her career. Cora Crampton is fast becoming a leading expert on her life and times.